What Can You Trade With Neighbouring Businesses?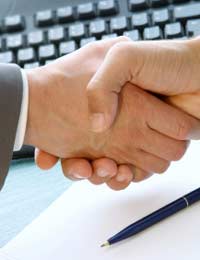 What Can You Trade With Neighbouring Businesses?
When you're working to develop a business enterprise alongside your business neighbours, it's important to work out what you can offer by way of a contribution. As well as making financial investments where that is appropriate, you'll be expected to contribute skills and/or products and services to help make the scheme work. In the longer term, it's also worth looking at ways in which you can trade these things with neighbouring businesses in order to develop and strengthen ongoing business relationships.
Identifying Core Assets
In the first instance, it's important to identify the core strengths of your business, the things which you have in abundance and which are therefore comparatively easy for you to bring to bear in your new business enterprise.
If your business is doing very well financially then money may be an asset you can contribute in quantity, but it's generally more useful to focus on things like skills and physical assets. Perhaps you have premises which can be useful for holding meetings or staging events, or a photocopier which you can use for producing leaflets. Perhaps you can translate publicity materials into minority languages used in your area, or perhaps you have radio experience which will help you to give impressive interviews on behalf of your business enterprise. Discuss your core skills with other members of your group and work together to determine which will be most useful to your projects. If other people have similar skills, you may be able to work alongside each other and learn and refine your talents at the same time.
Finding A Use For Other Skills
Sometimes the skills which you have to contribute will themselves come to influence the direction that your business enterprise takes. Other skills which you don't always use in your day to day work can be worth discussing if you think they might be able to help your business enterprise. This could include skills you picked up in previous jobs or things you studied at college but haven't used since then. Remember that things which are of no particular use to you in running your own business may be useful to your business enterprise or to a partner business.
Trading Resources
The products and services you normally deal in can also be of potential use in business to business trade. For instance, you may be able to provide catering at business enterprise meetings, or offer discounts on your products to customers visiting one of your partners. Sometimes your customers themselves can be a resource, as when you collect and share information about them which is useful to your partners as well as yourself. If you have a lot of loyal customers whom you often chat to, your recommendations could have a high value attached to them. If you are already a well established company, you may even be able to attach a trading value to the use of your name in the promotion of business enterprises and on promotional or fundraising documents for new businesses.
Healthy trading relationships between neighbours are a great way to develop a strong local business community, and they can make it much easier for all involved to access particular skills, products and services as and when they need them. What's more, by keeping your trading relationships locally focused you can strengthen the local economy and improve all your fortunes.
You might also like...