Borrow Window Space to Boost Your Profile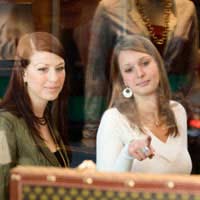 If you're a 'hidden business', with no easy way of advertising your presence to passers-by, marketing your products or services can be difficult and expensive. It can be hard to make potential customers aware of your presence - much harder than for, say, a shop or café with a big window facing out onto the street. So why not see if you can trade with businesses of that sort and borrow some window space for your marketing materials? This can be a great way to raise your public profile and build business relationships at the same time.
Stay Close to Home
The closer to your business premises you can borrow window space, the better. This is particularly important if you run the kind of business from which a customer might make an impulse purchase, but it also matters because you can benefit from customers associating your profile with the local area and recognising that you're part of the community. When they try to remember where you're located, they'll remember where they saw your advertising materials. Always include a web address or phone number on your posters so that if they have difficulty finding your premises, or if they prefer to find out more first, they have the option to do so.
Negotiate Your Display
When you borrow window space you'll want your marketing display to stand out, but it's also important to keep it in line with the concerns of the business you're borrowing it from. They won't want it to overwhelm their own display or clash with their approach to business. Try to find a host whose business style and target market closely mirror your own, and negotiate clear guidelines as to what you can and cannot do with your display. The last thing you want is to go to all the trouble of designing your campaign and preparing your materials only to be asked to take them down.
Joint Displays and Recommendations
Rather than borrowing a section of window purely to promote your own profile, it's possible to put together joint displays which you share with the host business, using your design work and business initiative to give their profile a boost as well. This is easiest with businesses with which you have a connection. For instance, you could advertise your printing business in a stationer's window by using a quote from the stationer stating that you offer the professional solution to printing needs. This would not only promote your business, it would also make the stationer look more knowledgeable about a related industry, and hence more professional.
Shared Windows
Sometimes a business will make a bit of extra money by renting out its window space for advertising by several businesses. In this case it may be difficult to hire a large area of the window, as the business owner won't want to damage relations with other customers, so you'll have to make your profile stand out in the limited space you've got. A good way to do this is to use a different shaped poster or banner which will draw the reader's eye because it's different, or to use colours which stand out in contrast to those around them. See if a bit of extra money can persuade your host to place your advert at eye height where it will get more attention.
Borrowing window space can be a great way to boost your business profile. It's much cheaper than billboards but it gets your publicity materials right out there in the public eye. However if you're going to use it successfully then you'll need careful planning and the ability to haggle.
You might also like...