Use Community Notice Boards to Promote Local Business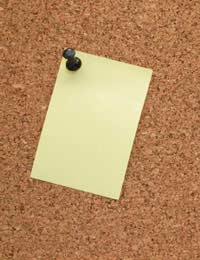 When preparing advertising to promote their businesses, many people overlook the most obvious way to reach local customers - through local community notice boards. They're not as glamorous as billboards and they may not seem as important as the published media, but they're widely read - and what's more, they tend to be read by the sort of people who are most effective at spreading word of mouth. Making effective use of notice boards can significantly increase the amount of attention your business gets, at very little cost.
Finding Notice Boards
Where are the notice boards in your community? The best way to find this out is to use your feet. You might find that there are more than you think. Newsagents often use their windows for this purpose. You'll also find them in cafés and in independent community businesses like chip shops and bakeries. Most of these places will be happy to advise you on where you can find others.
Once you have identified the location of noticeboards, try to identify what sort of people each is aimed at. For instance, some may specialise in advertising rental accommodation whilst others may promote local musical events. This doesn't mean that you need to be a landlord or a musician to use them, but it does mean that you can tailor your adverts appropriately to suit the character of each board.
Advertising on Notice Boards
Advertising on community notice boards requires a unique approach which goes against the grain in that it requires deliberately looking unprofessional. If you place a slick, glossy, colourful, cleverly worded poster on one of these boards, everybody will ignore it, dismissing it as outside the scope of the community-focused material they're interested in. To get their attention, use hand-written notices which look closer in appearance to those posted by private individuals. You can make them stand out by using coloured pens and giving them a coloured border, but aim to match the rest of the notices in your general style.
Successful adverts on community notice boards are chatty, friendly and community-focused. For instance, you might say that customers are welcome to visit your shop to try free samples of a new product, or you might let them know about a week when you're offering special discounts. Use exclamation marks and asterisks to make your points in a cheerful way. Enthusiasm will be welcomed but looking too sophisticated will often put people off.
Hosting your Own Community Notice Board
If you have premises with suitable space, such as a window onto the street or a blank wall beside which customers queue, you might want to consider hosting your own community notice board. This can increase the traffic to your business as people go there to read the notices. You can place your own adverts there too, or you can give people paper to write their notes on which also features your logo. Bear in mind that nobody posts anything on a bare notice board, so you'll have to solicit adverts to get it started. Try talking to local libraries and charities to get things going. Ask friends if they can contribute.
Some businesses charge money for the use of their community notice boards but this is only ever a nominal fee. Most are free. Even if you're not charging money, however, you should encourage visitors to pass their notices through you rather than pinning them up directly, just so you can keep an eye on things, and you should check the board regularly to make sure that nothing inappropriate has been posted there.
Communication platforms like these are part of the glue that binds communities together. By getting involved with them you cannot only promote your business but also identify yourself as a member of the community and a keen participant in its activities.
You might also like...
Hi, thanks for this information. I am trying to promote myself and have been looking for suitable notice boards. Most of them are behind plexiglass and locked. I'm having difficulty trying to track down how I can get my advert on these boards, can you help? Best regards, Dale.
Guruguy
- 28-Aug-21 @ 7:21 AM
There are notice boards all over. Look at libraries, which will often advertise very local services, especially for non-profits. The corner shops might well put your notice on the wall, and those places see a lot of foot traffic, making them excellent possibilities. Try to make use of all the possibilities in the area and a little bit beyond. Many of these places won't even ask for payment, and being local will be seen as a huge plus to many householders.
Alan
- 14-Jun-12 @ 4:10 PM