Taking Sides in Local Campaigns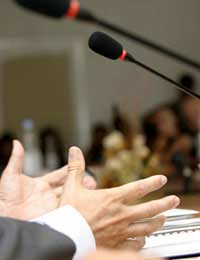 Taking Sides In Local Campaigns
Conventional wisdom says that it's important for a business to remain politically neutral, and yet if you pay attention to world events you'll realise that many of the most successful business owners throw their hats in behind politicians and controversial campaigns. What's going on? Aren't they worried about losing support? If the world of politics seems a long way away, consider how it operates at a local level. What should you do if different groups within your local community start arguing over a proposed development or event? What if your own community initiatives, intended to be helpful, are attacked by a vocal minority? Is it okay to stand up and say what you think, or could that put your business at risk?
Showing Leadership
One of the things which a capable entrepreneur is supposed to do is to show leadership. This is one reason why your local community will look to you to help with campaigns, and why they will be impressed when you take the lead in trying to improve the area. People are impressed by business leaders who are strong willed and decisive, even to the point where this is more important than precisely what they have to say. By taking a confident stance, you may well be able to win over some of the opposition, and others who retain their original position will still respect you.
Since winning respect through leadership is tied in to people's impression of you as a professional, it's vital that you conduct any controversial campaigning in an impeccably professional manner. This means that you must never lose your temper and must never resort to inappropriately offensive or underhanded tactics, even if your opponents do. If you think a particular situation might be difficult for you like this, it might be better to avoid it and find a different way to express your involvement.
Picking The Right Side
For the most part, you're unlikely to seek involvement in campaigns where you don't have strong feelings at the outset. However you may sometimes find yourself in a situation where different members of the community are pressuring you to pick one side or another in a local dispute, and where you feel that a neutral stance risks making you look weak and damaging your business. In this event, is there a rational way for you to determine which side to pick?
In business, it's important to survive in the short term but look to the long term. You should determine your position on controversial community initiatives by considering which position is most likely to win out in the long term. Perhaps a proposed 'improvement' which is unpopular now is likely to win over support once people get used to it and see what it has to offer. Perhaps a new traffic control scheme has short term advantages but is destined to become unpopular once people realise how much it restricts their day to day activities. When people change their minds and decide that you were right all along, their respect for you will increase because you will have demonstrated another of those skills which is important in a business leader - an ability to predict future trends.
Dealing With Politicians
One of the reasons why business leaders are often wary of getting involved in local campaigns is that they don't want to upset politicians - especially local councillors - who might have power over them. This can create a difficult situation, especially in an area where one political party is always dominant. However, of more use to a business than a generally co-operative council is one or two strong political allies who will always fight its corner.
In the long run, most politicians won't care enough or pay enough attention to keep on sabotaging you because of a position you've taken. However if you cultivate political allies then you can make sure that there will always be somebody there for you to help ease through a planning application or help out in a regulatory dispute. Try to find allies who are likely to hold onto their posts even after elections, and, if possible, make cross-party friendships so that you don't find your interests sidelined if one party suffers a major defeat.
Getting involved in politics at any level is risky for a business, but it can have big rewards. Ultimately, it's something you'll have to face if you want to be a community leader and make life better for your local community, because there is no business enterprise initiative that can hope to be entirely free of controversy.
You might also like...