Local Business Sponsorship in Education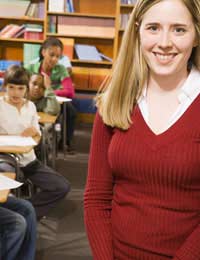 If you're looking for an opportunity to boost your reputation in the local community, improve its long term economic situation and win the loyalty of skilled individuals, further education sponsorship could be for you. Whether you choose to sponsor individuals so they can afford to study or to sponsor an institution so it can improve the quality of the educational opportunities it offers, you'll be making a long term investment that can really change people's lives.
Scholarships
One of the most popular ways for well established local businesses to support further education is by setting up a scholarship fund. You can do this either independently or in partnership with another local business. It's a great way to get publicity, especially if your products or services are targeted at young people, because it's easy to get schools to promote it for you and to speak positively about your business in the process.
A scholarship doesn't need to pay all of a student's costs in order to generate positive attention. Just a few hundred pounds can do the job, meaning that this can work out well in comparison to other forms of publicity campaign. Often businesses take a continuing interest in the progress of the students they support, and there can be ongoing opportunities for publicity, including possible features in local newspapers when the students graduate.
Because it directly helps individuals from your local community, a scholarship shows that you are genuinely committed to improving your neighbourhood. It tends to be treated far less cynically than other forms of advertising. What's more, with a bit of luck, students you sponsor will go on telling people how you've helped them throughout their academic careers and even in later life. This is the sort of good word of mouth you just can't beat.
Becoming a Course Sponsor
One of the best high-publicity ways for a business to get involved with an educational institution is to become a course sponsor. This means that your business name will be directly associated with a particular subject, such as an aspect of business studies. It gives the impression that you are an expert in your field, something which can help you a lot when you want to impress investors. You may even be able to arrange to address students directly, giving them the benefit of your expertise and promoting your business at the same time.
Many colleges can only afford to run certain courses due to the assistance of businesses, so this can be a great way to form a positive relationship with a local institution and be seen to be providing opportunities in your neighbourhood. Talk to your local colleges to ask if there are areas where they really need help, and try to talking to your local council to see if they can be persuaded to co-fund courses with you.
Project-Based Sponsorship
Colleges and universities are always looking for support for research projects, and getting involved with these in a sponsorship capacity can help you get your name in the news in association with new discoveries and the advancement of understanding. It's particularly good if you're involved in innovative work yourself because it illustrates that you're always up to date and that you're passionate about progress.
The best way to get involved with sponsoring a project is to choose a subject area that particularly interests you and then approach institutions to see if they have any students planning to do research in that area. Often you will then be able to arrange students and find a mutually interesting area of work that you're happy to (wholly or partly) fund. Bear in mind, though, that you won't be able to influence the results of research or how they are presented, so you can't guarantee this will always turn out the way you want.
However you choose to get involved, helping to fund further education can benefit your community, provide amazing opportunities for individuals and mark you out as a business that's looking to the future. It's a really practical way to make a great impression.
You might also like...
like thise chance are very best for poor people.
I'm currently looking for financial support to help pay for my tuition fees. I do not qualify for student finance and so I have to pay for everything myself. It's really stressful I cannot find any other solution.
Stella
- 19-Dec-16 @ 10:40 PM