Basic Business Networking Skills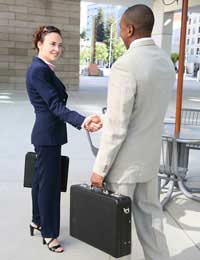 Business networking is essential to success for any entrepreneur, and it's all the more important if you hope to build business enterprise partnerships and work with local charities, agencies and voluntary organisations - but for an inexperienced business owner it can be highly intimidating. What do you need to know to get it right and how can you avoid making mistakes? Essentially, it's about good communication.
Online networking now offers an opportunity to explore the way this works at a gentler pace, without the pressures of doing it in person, and it can still offer a real boost to your marketing campaigns. But sooner or later, you're going to need to attend business networking events and get talking to people. Where should you begin?
Preparation
Before you attend a business networking event, it's essential that you are prepared. Try to find out who is expected to be there, at least with regard to your specific business area and organisations which you might want to work with. Find out a bit about them so that you'll have something to talk about and can make a good impression. Dress smartly but try not to look too ordinary. An unusual tie or a smart but striking dress will make you more memorable, at an event where every individual will meet dozens more, this is really important.
Make sure you have lots of business cards with you and be ready to hand them out at every opportunity. Ones with your photograph on are ideal as, again, they're an aid to memory.
Business Networking Events
Business networking events are in many ways like parties, except that, because many people there don't know each other and because there's so much at stake, the atmosphere can be much more tense. Don't let this get to you - think of it as if it were a purely social occasion, and relax. You can use just the same skills to get talking to people. If people are talking loudly in the middle of the room and you overhear something you know about, it's generally okay to join in. If you see people sitting on the sidelines, looking lost, they'll usually appreciate it if you go over and say hello.
Always introduce yourself with your full name and the name of your business, delivering a firm handshake, but don't worry about being formal beyond that. It's quite okay to smile and joke, and this will often make people more comfortable around you. Essentially, you want to make friends, because friendships underlie the most valuable business relationships.
Often there is alcohol available at business networking events and sometimes it's free. Having a glass or two of wine to boost your confidence is fine, and can help you act more naturally, but try to resist the temptation to drink more. The last thing you need is to end up embarrassing yourself in front of important potential allies. If someone offers to fetch you a drink and you feel awkward about refusing, just say you'll be driving later.
Other Forms of Business Networking
If there are no business networking events coming up that you can attend (check with your local business support service), there are still things you can do on the networking front. Online networking can be a great way to get to know people, so do a web search and find out what resources there are for your area. Even non-specific local forums can be a good place to meet other business people, and you can chat to potential customers there at the same time. There's no form of marketing as effective as personal communication!
Remember that the idea of networking doesn't stop with you directly meeting other business people. The people you meet can go on to introduce you to their contacts, expanding your circle of potential allies and business enterprise partners. Make sure that you're always ready to pursue new opportunities of this sort and to follow up on contacts you've made.
Getting to Know your Neighbours
The most important form of business networking for a company interested in local business enterprise is simply getting to know the neighbours. Don't be shy about this. Take the time to wander around other business premises in your area, introduce yourself and hand out your business card. To avoid seeming too pushy, ask friendly questions as well as stating your pitch, and make sure you take the time to listen. Most people like to talk about themselves and to promote their businesses, so they'll welcome this opportunity.
Good relationships with your business neighbours are the key to any successful local business enterprise, so get out there and get networking!
LOCAL BUSINESS ENTERPRISE IS FOR SALE.
This website is for sale [more info].
You might also like...