When a Neighbour's Business Damages Yours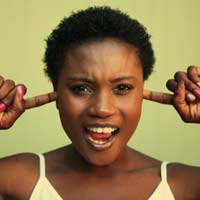 It's great to be part of a friendly local business community but, with the best will in the world, sometimes things just don't work out that way. What can you do if a neighbour's business starts causing problems for yours? How can you deal with your difficulties without starting a feud that puts off customers?
Seeking Resolution
It's unusual for a business owner to be pig-headed about the problems they cause for their neighbours. Sometimes they may genuinely not care, but more often the problem will arise because of misunderstanding. For this reason, your first course of action should always be to try and talk to them about it.
Because most of us don't like complaining, we may wait for too long before we do so, letting the stress build up until we're really angry. It's a bad idea to confront a neighbour when you're in this mood, as it will only lead to conflict and entrenched positions. Try to approach the problem in a friendly way, perhaps by inviting them for a coffee after closing time.
To make sure you don't lose track of important points during your discussion, make a list of your concerns. Try to think about how these things might seem from your neighbour's point of view. They're more likely to change what they're doing if you can provide positive alternatives.
Taking Things Further
If your neighbouring business refuses to deal with the problems it's causing for you, and no amount of polite persuasion will help, there are several things you can do whilst keeping relations between you as civilised as possible.
If you run broadly similar types of business, you may be members of the same trade union. In this case, your union may be able to intervene and put pressure on your neighbour to resolve the problem. This is a cost free way of obtaining the services of a skilled negotiator. Alternatively, your local business support centre may be able to help, and this is often cheap or free if your business is within its first two years of trading.
If your neighbour makes inappropriate attacks on you, for instance by spreading rumours about you or writing letters to the local press, it's important not to be seen to sink to the same level. If you remain calm and civilised about things your customers will be sympathetic to your situation and your neighbour's outbursts will do more damage to their reputation than to yours.
Remember that slander, defamation or damage to your premises are crimes and can be prosecuted. Other types of offence can sometimes be dealt with under Environmental Health legislation. If it's hard to prove who is behind problem incidents, a lawyer can advise you on how to collect evidence. Many lawyers will offer an initial consultation for free.
Problem Types of Business
Some types of business can present serious problems for their neighbours because of the impression they give to customers. For instance, the presence of a sex shop may make your customers uncomfortable visiting the area, or a rowdy bar might make them feel intimidated. This is why businesses like these require special licences.
It's a good idea to keep in touch with your local planning department so that you can find out straight away about potentially problematic licence applications. This will give you the chance to make your voice heard - and, if necessary, to rally other local business owners and residents in opposition.
Speaking out against a business like this doesn't automatically mean denying it the right to exist. You may be able to come to an arrangement whereby it will be more discreet or employ security staff to deal with problem customers. But making your point early on can make it much easier to get things sorted out if you do have problems later on.
You might also like...