Work Together to Get your Business Area Noticed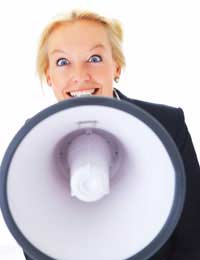 One of the frustrations of running a small business in a modest, affordable area, can be constantly having to deal with people who ask why you're not located somewhere more fashionable or convenient, and knowing that you're missing out on custom because of it. Relocating to a place like that is not an option for most small businesses, so what can you do to put your area on the map? Whilst it's tough to get noticed by yourself, getting together with other local companies and community organisations to form a promotional business enterprise can offer a solution. By coordinating your efforts you can raise the profile of your neighbourhood such that every business within it benefits.
Assessing your Area
Before you can start to turn things around, it's important to look closely at your local area and try to establish what the problems are which put people off doing business there. You can't do much about location, but you may be able to do something about cleanliness, attractiveness and accessibility. You should also look at the reputations of local businesses. What is the range of business resources on offer? Is there enough commonality between all of some of them for you to be able to design a package promotion - for instance, presenting the area as a great place to buy and maintain a car, or as the number one spot for baby supplies? Can you appeal to the same market sectors - for instance, if you have bars and boutiques and music shops all of which are fashionable with young people, enabling a target promotional campaign? Are there other local facilities which you should draw attention to in order to get more attention?
Consider the sort of facilities which are useful to business visitors. Are there any conferencing facilities in the area, or could you create some? Are there cafés suitable for business lunches and meetings? Are there businesses offering support facilities such as photocopying and printing? Can you and your business enterprise partners develop any of these facilities if they're lacking?
Creating a Business Promotional Pack
If you want to get other businesses to take your local area seriously, it can help to have a business promotional pack. Your local business support service and city council may be able to assist you in developing this, and if your area is officially 'deprived' then you may even be able to secure funding towards it. Your business promotional pack should feature one page for each of the companies participating in your business enterprise, along with general information about business facilities and opportunities in the area. Remember that it may also be read by entrepreneurs looking for a place to site new businesses, and increasing the overall business traffic in the area will usually be a good thing for you.
A business promotional pack should always feature good quality photographs of your area and the businesses within it. Combine your business skills to make it look as professional as possible. If you area has traditionally been run down, you can present it as being in the process of exciting redevelopment, too good an opportunity to miss. If it has simply been unheard of, try marketing it as an undiscovered jewel. You can make your promotional pack available at business networking events and via business support services both locally and nationwide.
Boosting Business Helps Everybody
If it seems unfair to concentrate on your own business interests when your local community has other pressing needs, consider what a local economic boom could do for them. More businesses operating locally means more useful contacts for your business enterprise, which can work to improve the area generally. Putting your business area on the map can increase the value of local people's properties and encourage investment by government and private agencies. It's a great way to turn things around for the whole community.
You might also like...