Give Away Free Samples in Other Local Businesses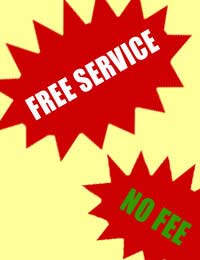 What are businesses for? No matter what other noble aims you may have for them, and no matter how good a service you may aim to provide, ultimately they're about making money. So why would you give something away for free? Sometimes the logic of running a successful business is more complex than it might seem. Free samples can make a big positive impression on the local community and, when you distribute them via other businesses, they can draw in customers who would never have thought about trying out your product or service otherwise. This kind of cooperative business enterprise can make a big difference to your sales.
Forming a Network
If you want to distribute free samples effectively, you'll have to work together with other businesses based in your local area. Look around for businesses which you think might benefit from such a scheme. Ideally you'll find businesses which are not in direct competition with you but whose products and services complement your own. For instance, if you sell greetings cards, you could team up with a florist; or if you sell jewellery you could team up with a clothing store with a similar sense of style.
You can network with as many businesses as you want provided that you're likely to attract the same sort of customer base, but remember that some products are of universal interest - if you sell chocolates, for instance, it might be worth offering free samples in a car dealership, because whilst they don't have much to do with cars nearly everybody buys them sometimes and people in car dealerships generally have a fair bit of money to spend. Use your intuition. If you can't offer to stock samples in return, you may be able to use another means of persuasion, such as offering free chocolates to the staff.
Promoting Other People's Products
In a network of this sort, you shouldn't think of yourself as having to put up with stocking other businesses' free samples in exchange for them stocking yours. On the contrary - their free samples may also draw in business for you. Everybody likes to get free stuff and word will soon get around your local community about the places where it's to be found. If somebody comes onto your premises because they fancy a free cake made by somebody else, they may well hang around and buy something whilst they're there. If nothing else, they'll see your displays and you'll have the opportunity to advertise to them. What's more, the fact you're working with other businesses will boost your professional image and will emphasise the fact that you're an important part of the community.
Selecting Your Own Free Samples
When you're giving away free samples through this sort of business enterprise it is, of course, important to choose the right ones. They shouldn't be too expensive - people will assume they're not worth much anyway, if they're being given away, so don't bother trying to bribe them with classy gifts - but they should be attractive and eye-catching. Consider the sort of small items which customers might choose as casual purchases, but make sure they're unique to your business. There's no point in turning people onto a product which they can then go and buy somewhere else.
Make sure that, wherever you place your free samples they'll be accompanied by promotional material identifying your business. Pop round to the other businesses in your network from time to time - or get friends to visit them - to make certain that this is being done properly. When you're making an investment like this you need to be sure it'll pay off. To encourage goodwill, make sure that you display the other businesses' promotional material appropriately and take the time to talk to curious customers about them.
Giving away free samples is a simple way to get attention but it can be a very effective one. Just make sure you don't run out of your newly popular product, and make sure you have plenty of similar good things in stock to impress your new customers when they arrive.
You might also like...