Organise 'Lights Out' Nights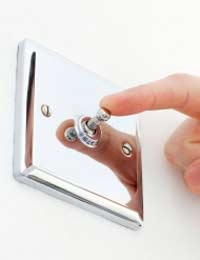 How much electricity do you think is used in city lights on an average night? When the WWF ran their famous Earth Hour project, some organisers estimated it's as much as fifteen percent of a city's total electricity consumption. Business electricity use accounts for a huge proportion of this, despite the fact that most businesses are closed overnight. But now your business can take a lead in turning this around. By organising a lights out night in your local area, when all non-essential lighting and electrical equipment is turned off, you can draw attention to the problem of energy waste and encourage both business and individual energy consumers to be more careful day to day.
Setting an Example
With ordinary business electricity consumption so high, everybody develops a notion of what's normal which is at odds with what's actually practical and sensible. It's easy to think of lights out nights as a gimmick, but they're important because they break these habits and challenge our established ways of thinking.
Local councils and agencies are often interested in the idea of lights out nights but rarely take the initiative themselves. This is because turning out the lights on public buildings wouldn't make much of an impact. It's businesses which provide most of a city's lights at night, so businesses need to be ready to take the lead. You can start by making your business a contact point for your lights out initiative. Talk to your business neighbours to see if you can get them involved. Even if you are only able to extend your project over a small local area, it can make a big difference. Promote the event on your business premises and, if you have them, in your windows. Ask your partners in the scheme to do the same. Let your customers know that they can get involved too by turning off non-essential lights in their homes.
Not Just the Lights
Saving energy isn't just about turning off the lights, so take advantage of your lights out night to encourage local people and businesses to think about other, less visible ways in which electricity gets wasted as well. Encourage them to turn off electrical equipment properly rather than just leaving it on standby. Ask them to consider whether they need to have their heating turned up as high as it is. How many tasks for which they normally use electrical equipment could they easily do without it?
Although nobody would do anything so dangerous as asking cars to turn off their lights for an event like this, it's worth getting people to think about their car use. Ask them if, for this one night, they can avoid making unnecessary journeys. They might be surprised by how easy it is to get by without.
Experience the Difference
One of the things that people always remark on during lights out nights is how many stars they can see. Often, in cities, we forget how beautiful the night sky can be because there's always so much light pollution. Even with roads still lit, the general reduction in light that comes from businesses turning off what they don't need can make a big difference to the way it looks. Suggest to your customers that they watch the stars - it'll encourage them to think about how small the Earth is and how dependent it can be on their care.
A lights out night can be an important community experience. Restaurants can offer candlelit dinners and friends can get together to share social experiences rather than just watching TV. When you organise an event like this it's good to get out and about and get feedback from ordinary people affected by it. Collect their positive statements and ask if you can quote them in materials promoting the event. Remember that, when it's over, your business enterprise partners and your customers will want to hear all about it, to measure its success. Helping people to feel that by working together they have achieved something important is an important step on the way to getting them involved in further environmental initiatives.
You might also like...