Hold Customer Tours and Open Days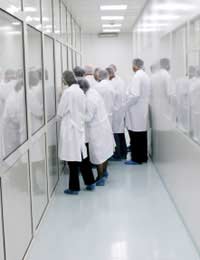 Hold Customer Tours and Open Days
If you'd like to get your customers more involved in your business, why not do so directly? Customer tours and open days are a great way of introducing them to the work you do. Holding events in which the public can participate is a form of business enterprise which always has potential, but when you invite customers onto your premises you give them an emotional stake in the running of the business itself, increasing their loyalty. You also demonstrate the hard work, care and attention that you put into providing your product or service, ensuring good word of mouth and making your customers more patient with price increases. But how can you organise an event like this and what do you need to do to ensure that it goes smoothly?
Announcing an Open Day
The simplest way to announce an open day or customer tour is to display posters about it on your premises, but whilst this can be effective, it only reaches your existing customer base. To attract new people you'll need to advertise elsewhere. Community noticeboards and the local media can be useful, but the best promotional opportunities available for this sort of business enterprise come from dedicated listings magazines and websites. These often have sections on free things to do. Promoting your tours as free activities, perhaps with free gifts (i.e. samples of merchandise) available at the end, will make them seem enticing to the sort of people who might not normally consider visiting your business but who like to try different interesting things. These people are great for spreading the word if you can make a good impression.
You can also try promoting tours and open days to particular customer groups which fit your target market, e.g. a student society or a social club catering to pensioners. Often groups like this are anxious to find new activities for their members and they may welcome the chance to do something a little different.
Organising Tours
In order to organise a successful tour you need to think of it not just as a business enterprise but as an exercise in entertaining customers. If your premises are relatively small, it won't take them long to wander round, even if you stop them at each stage to explain how particular things work. Try to plan some extra activities - you'll want them to be there long enough to feel that the whole thing was worthwhile and to develop an ongoing interest in your business. Make sure you have some funny stories to tell and try them out on your colleagues. On the tour, encourage visitors to tell their own stories and try to develop a dialogue.
Remember that an event like this provides you with a good chance to emphasise those aspects of your business enterprise that you're particularly proud of, such as your contributions to the local community or your work to protect the environment. This can create the opportunity to discuss bigger issues and to take suggestions from the group, making them feel empowered and involved.
Make sure that you have promotional materials to hand out at the end of the tour. Ideally, each visitor should receive a small bag of goodies which may include free samples and discount vouchers, encouraging them to return.
Organising Open Days
A business open day works much like a tour except that it is less structured, with visitors free to wander round your premises at any time during a scheduled period. Try to make sure that you can always be there in person to welcome them, but check that your other staff are also capable of doing so and of answering questions as they go around. Open days require more vigilance from everybody so they can be a bad idea if the nature of your business is such that visits to your premises entail health and safety concerns. On the other hand, since visitors are free to pick a time that suits them, you may find that more people attend.
Tours and open days are a great form of business enterprise for engaging with the local community, giving your customers the chance to get to know your business just as you have the chance to get to know them.
You might also like...