Work Together to Help the Environment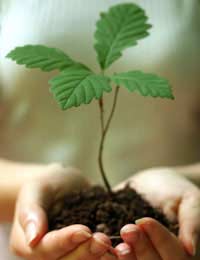 There's an ongoing debate as to whether the effort that must be made to stop climate change should come from the government or from individuals. Anyone with a sincere interest in protecting the environment will tell you it has to come from both - and from somewhere else besides. That's where you as a business owner come in. You might only be able to do so much by yourself, but when you get together with other small business owners to organise projects like tree planting and recycling , you can make a big difference.
Finding Partners
Thankfully, because protecting the environment is such a popular concern, this is one form of business enterprise in which you'll find it relatively easy to attract help. Lots of small business owners and voluntary organisations would like to get involved, but they may not know how. It's your job to take the initiative, to get them together and pool ideas and resources.
Despite their general enthusiasm, businesses may be hesitant to commit resources to something as nebulous as 'stopping climate change', not knowing what it might involve. Try to have some specific projects in mind when you first approach them, so that they can get an idea of the sort of thing you're looking for. Invite them to make suggestions and assure them that there are lots of ways to participate - if they don't have money to invest, they could lend out their premises for meetings or act as spokespeople. If you can get them involved in the immediate term, you may well find that they become willing to make financial contributions later on.
Developing Ideas
There are all sorts of ways in which businesses can help the environment and it's up to you to develop plans which suit the particular skills, facilities and funds of the people involved in your group. You might want to start small by planting some trees in the local area; you might want to join together to organise plastic recycling, which is difficult for one business to do on its own; or you might want to get yourselves noticed by beginning with a big project, such as installing solar panels on a public building. Your work will be important not just in itself but also because of the example it sets. What's more, when businesses invest in systems designed to protect the environment, it brings down the cost of participation for the ordinary citizen.
As well as making physical changes to the world around you, you can undertake promotional initiatives, working together to help make local people more aware of the ways in which they can help the environment. You can exchange contacts to make sure you all have access to the latest environmentally friendly products and services, and you can use your combined market influence to support local production and thus reduce the environmentally damaging transport of goods.
Go Green and Feel Good
When you get involved in using your small business to help protect the environment, you'll feel pretty good about it, but wouldn't it be great if your customers could feel good about it too? By designing an exclusive logo for your environmental business enterprise you can make sure that customers know when they're supporting a green business. This will encourage them to buy from you and to think about the importance of the environment when they do so. The logo will also act as a reward to encourage your fellow businesses to maintain their commitment to the group.
Making a difference to a global issue like climate change can sometimes feel hopeless, but it's contributions like yours which can inspire more and more people to get involved. This is the way to develop action on a global scale and to create a new, greener future.
You might also like...