Publicise Your Business Without Polluting the Environment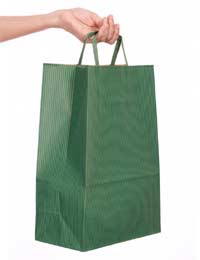 Traditional ways of getting publicity for your business can produce a lot of waste and can potentially be bad for the environment. What should you be aware of if you want to avoid this, and what alternatives are open to you?
Lead by Example
Taking a responsible approach to publicity can raise the profile of environmental issues with your customers and make you look good at the same time. An easy way to start is by using recycled paper for your leaflets, catalogues and posters. Many printers offer this as an option and can add a symbol or note describing the paper's origins so that your choice is clear to your customers.
There are now several companies in Britain which specialise in producing eco-friendly promotional items such as pens and keyrings. You may not be used to thinking of items like these as potentially damaging, but the production process involved in creating some plastics can be very damaging. By stressing the fact that your promotional items are non-polluting you can raise awareness of these problems and demonstrate that your company cares.
Watch your Waste
Often people don't realise how many materials commonly used in publicity campaigns can be problematic. For instance, not all plastic banners and catering materials are biodegradable, and some posters and cardboard standees have a type of gloss finish that leaches damaging chemicals into the soil as they rot. When you buy publicity materials, don't just think about where they come from, think about where they will go.
Fortunately there is a new generation of plastics available. These have been built out of plant proteins and they biodegrade harmlessly. They're now being used for banners and displays, and they're ideal for making shiny promotional materials that won't cause pollution, so look out for them at your local supplier or look them up online.
Although they're lots of fun and everybody loves them, balloons can cause significant environmental problems. If they are released into the sky there's no telling where they may end up, and they can cause injuries to wildlife. Even locally, their remains are often eaten by cats and dogs, which can cause serious gastric problems. It's best to keep them indoors or securely tethered, disposing of the remains carefully afterwards.
Use Light Wisely
As everybody competes to stand out in busy commercial districts, it's common for businesses to use more and more bright lights. Think about this carefully - do you really need to do so? In some areas you will stand out more by being less luridly lit, and sometimes dramatic use of colour on the front of your premises can have an equally dramatic effect.
If you do want to advertise with light, don't automatically go for neon. Lights like these use a lot of energy and can be difficult to dispose of in an environmentally friendly way. A great alternative is a diode bank. This is made up of lots of tiny LEDs. It's increasingly cheap to buy, it doesn't require much power, and what's more, you can program it to create different lighting effects or even to scroll messages.
]
Use Your Website
Make a brochure smaller and direct people to your website for more details - you could halve the amount of paper and ink you use to created them. Developing technologies are making it easier and easier to go green when it comes to business promotion, but what's really important is that you remain aware of them. Stress your concerns to your supplier, keep a look out for new products, and don't assume that any item is generically non-polluting. It's worth taking the time to show that you care.
You might also like...