Sponsor Local Renewable Energy Projects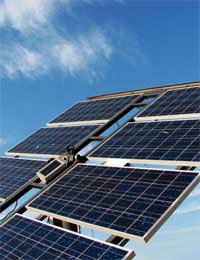 Moving towards renewable energy is the only sure way to create a sustainable future for all of us. As well as affecting us as individuals, the energy crisis should be high on the agenda of every small business, as a reliable source of energy is essential to a strong economy. But what can you, as a small business owner, do about it? By becoming a sponsor for local renewable energy initiatives, you can help your whole community to focus its efforts on making lasting changes. You can empower ordinary people in your area to change the way energy is generated and to change the world.
Go Solar
The most fashionable form of renewable energy and the easiest to set up in an ordinary community is solar power. Solar panels are getting more and more efficient and can now make a big difference to energy consumption. As well as benefiting the environment, they're a real money-saver in the long term, but they require an initial investment which is too high for most private individuals.
Whilst they may not be an affordable option for most private homes, solar panels make a great choice for public buildings such as community halls, schools and medical centres. If your business agrees to sponsor the installation of solar panels on public buildings it can make the impossible possible. What's more, it will encourage other businesses and private individuals to get involved, all contributing what they can. You will be recognised as a community leader with a business which is committed to the local community.
There's another plus point to installing solar panels like this, and that's that the more community groups do it, the lower the price of the panels falls, bringing them within the reach of more and more private individuals. It's simple market economics - by increasing demand you facilitate mass production. In this way you can help to tip the balance and make renewable energy an increasingly practical option.
Recover Biomass
If there are no suitable places for installing solar panels in your neighbourhood at present, there's another way you can bring together community resources to create renewable energy - and help to clean up the local area at the same time! By sponsoring people to collect old wood from broken fences, discarded palettes, broken furniture and rotten walls, you can accumulate material for the biomass processing industry. Biomass can be a very efficient fuel source and it's less toxic than coal. What's more, since it uses material which would otherwise just be left to rot (releasing carbon dioxide in the process), its environmental footprint is minimal.
Collecting biomass is a great way to show people how, with just a little of their time, they can make a real difference to the energy crisis. You can help by providing funds and acting as a point of contact with the industry, and also by showing leadership and offering practical support to your team.
Developing renewable energy sources takes initiative. It's something which most people wait for the government to do for them, whilst the government's own resources are limited. As a business owner, you'll know all about the importance of taking the initiative, and you'll have the skills to get things working. By becoming a sponsor for renewable energy projects, you can show other people the way.
You might also like...