How Local Businesses Survive Recession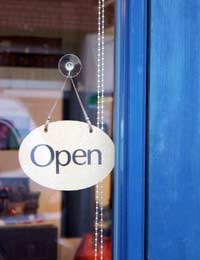 In tough economic times, it can seem as if the odds are always in favour of big business, which is likely to have more capital and more room for manoeuvre. But if you play your cards right, this can be a good time to be a small business. It's all about knowing how to make the most of local knowledge.
Pacing Yourself
One of the most important things a business owner wants to know about recession is how long it will last. That can be hard to determine, but there are other factors that can make it easier for you to work out the best way of pacing yourself.
Pacing yourself is all about knowing how long you can manage with austerity measures in place, how long you can eke out saved capital, how long you can put off creditors and when it is wise to invest. This can be very difficult to do on a national or global scale, which is part of the reason why some big businesses have gone under, but it can be easier to do on a local scale.
In the local business environment, you don't have to survive until the global situation improves, just until your immediate one does. For most of the products and services offered by local businesses, demand remains fairly constant. Even where it slumps, that's less of a problem if supply is slumping too. Supply can slump because other businesses like yours are closing down. All you need to do is outlast them and watch your market share increase.
In this situation, it's more important than ever to know how your competitors are doing. It's also a good idea to try and be on friendly terms - you may be able to pick up their stock for low prices if they close, or they may be willing to recommend former customers to you. This can benefit their owners, too, because good industry contacts can help them to secure employment in the longer term.
Prioritising Products and Services
When customer demand is lower, it's important to pay close attention to which products and services remain popular and which do not. Generally speaking, customers will cut out luxuries, so you should invest less in this area. However they will often look for fun things to cheer themselves up if they're struggling, so cheaper non-essential items can still appeal.
In a recession, many people change their shopping habits. This means that they may start shopping in cheaper places they wouldn't usually visit. It's up to you to impress them with the quality of your products and services whilst you have the chance. Be friendly and reassuring to uncertain customers. If you can get to know them, they may come back out of loyalty to you even after their prospects improve again.
Many middle class customers are inexperienced when it comes to shopping at a discount. This means that advertising discounts and sales can attract a lot of custom in a recession even if the saving customers make per item isn't really very high. Since offering a sale on everything can be expensive, try luring customers in with high profile discount items. Once they're through the door, they'll be more willing to make further purchases.
Spending Money to Make Money
It's often said that you can't expect to make money without being willing to spend some, and this can apply even in a recession. It's important to avoid risky investments and to keep enough capital to tide yourself over in emergencies, but if you have some free money, how should you spend it?
The key to making good investments when times are hard is to watch the market closely. It can be a great time to purchase large scale equipment or fittings if you can find a supplier which is close to collapse and looking to get rid of stock. Don't take risks on new products or services when customers are likely to be conservative in their spending habits, but invest in strengthening your business to meet long term challenges.
You might also like...