Persuade Franchises to Support Unique Local Businesses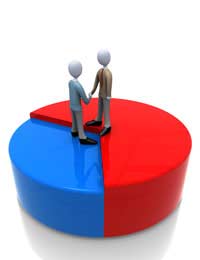 For people who want to go into business for themselves but who don't like the idea of having to do it all by themselves, franchises are a tempting option. They're also a great way to draw on existing expertise and experience in getting new businesses through their vulnerable early years. But how much freedom do these large-scale business enterprises allow, and will working with one leave you the space you need to cater to local needs? Does the support they offer come at the expense of the businesses' valuable individuality?
Franchise Options
Buying into a franchise doesn't always mean becoming part of a big, well known chain of businesses. There are lots of different businesses out there using very different franchise models. Not all franchises are based on the principal of constructing identical businesses around the same brand identity - some simply focus on repeating the same successful business model, with the franchise name making it possible for the buyer to secure support and connections which might not otherwise be available. Many franchises are designed to be able to adapt to different local situations, giving businesses the flexibility to take advantage of local opportunities. However every franchise involves some long term obligations.
Unfortunately, thanks in part to the rise of the internet, there are a significant number of so-called franchises out there that are really scams or multi-level marketing schemes of a dubious nature. To make sure you're not at risk of getting drawn into one of these, it can be a good idea to obtain advice from a franchise consultant before you make your final decision as to which to approach.
Negotiating a Franchise
Once you've decided which franchises you're interested in working with, it's time to see if you can get one of them interested in working with you, with the caveat that you need the breathing space to develop your own unique business. You should approach this much as you would approach a job interview, but placing your previous business experience to the fore. Make sure that you have thoroughly researched your local area and that you also spend a significant part of negotiations focusing on the ways in which your local expertise can enable you to adapt the existing franchise model to fit its new context. You may actually find that it's easier to negotiate changes with a large franchise, as the owners of smaller ones tend to be more sentimental and also realise that they are more vulnerable to franchisees' mistakes damaging their reputations.
Working With a Franchise
If you're not interested in buying into franchises yourself, it may still be in your interests to work with them, especially if you're trying to launch an important local initiative and you could benefit from the support of a big name. Many franchise executives restrict what businesses working with them are allowed to invest in, but even where this means that a financial contribution is impossible, you might still persuade a business owner to contribute in other ways. If you're really lucky, the franchisee will be able to persuade the big company executives to give you some support as well. Franchises are superbly positioned for networking and this can be a great way to get really big players to support your business enterprises.
You might also like...