Business Research Training Partnerships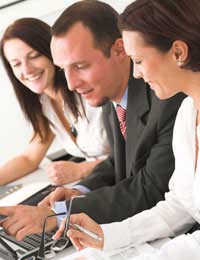 Would you like to create opportunities and enhance the learning experience for students in your area, enable research and boost your business at the same time? By working together in partnership with your local colleges or universities, you can provide practical support and expertise in exchange for access to talented staff and useful information resources, so your community can benefit from your combined efforts.
Enhancing your Business
Working together in partnership with locally based students who want to develop their business skills can provide an excellent opportunity for you to improve your business' talent pool at minimal cost. Whilst, for them, the practical experience they'll get working with your business will itself constitute local training, students can provide you with advanced research skills and theoretical knowledge that can expand the boundaries of your existing business model.
Generating new ideas in an established business is always difficult, and working with students can be a great solution. If you don't have a firm idea of the projects you'd like help with before you get students involved, discuss the matter with them to get their input. They may be able to bring a fresh perspective to the work you're doing.
Getting Involved
In order to develop a working relationship with students in your area you should first approach the relevant departments of your local universities, colleges or business schools. Business departments are usually keen to make contact with companies trading in the area so that they can illustrate how the theories they are teaching work in practice.
When you enter negotiations with a local educational institution, think about what you have to offer. The training that students will be looking for is unlikely to be the same as that which you would normally offer to new staff. They'll need to understand more about the management side of your business and the job which you yourself do.
Sometimes universities and colleges have existing community based projects that make it easy for you to get involved. They may invite business people to visit them and address their students or participate in discussion groups. If this happens, remember that the key to doing a good job is good preparation, and make sure you take plenty of supporting materials with you to help explain what you do.
Working in Partnership
Being part of a partnership focused on education means that you may have to tailor your own concerns - and even aspects of your business schedule - to needs of the institution you're working with. However, the very fact of having an academic partner can be highly advantageous to you, not least when it comes to impressing other businesses and your local council. This can help you with funding applications and other aspects of local business enterprise.
Where no institutional partnership option is available, some businesses form long term working relationships with individual students, receiving research support for them in exchange for helping to develop their skills. However you approach the process, you'll find that, once you start making contacts, it becomes much easier for you to move forward and develop the initiatives that really matter to your business agenda.
You might also like...