Build a Good Business Reputation Locally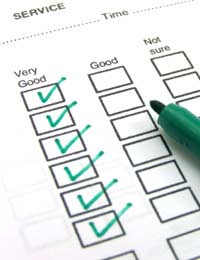 Building a successful local business is all about building a good reputation. Some businesses do everything else right and still never get noticed, but if you are able to reach out to customers and make them happy, they'll reward you with real loyalty. A small business can't survive without the support of the community, so make sure you provide that community with your support in return. If you work to improve it, listen to your customers and give them what they want, you can achieve success even when times are hard.
Getting Noticed
To draw positive attention to your business, you need to make sure you're getting noticed in the first place. If you're only recently established you might need to invest a bit of extra energy in putting yourself on the map. Look out for opportunities to get involved with community events or support community projects. If you don't have much money to invest as a business, you may be able to contribute as an individual by lending your energy and skills. Talk to local people whenever you get the chance and let them know about your business and what it does. If you run a publicity campaign, make sure you can follow it up by providing a great customer experience when people visit your premises.
Providing Good Service
More than anything else, developing a good business reputation depends on quality of service. If you do a professional job and are friendly and welcoming - without being too pushy - your customers will enjoy their visit and remember it in a positive way, perhaps mentioning it to friends and family. There is no form of publicity as valuable as good word of mouth. You can try exchanging recommendations with other local businesses to get the process started, and you can make an extra effort for customers like stay-at-home parents who are more likely to talk about their shopping experiences because not much else tends to happen in the course of their days. If you are trading primarily with other business people you can still capitalise on this sort of approach by offering particular support to customers whom you know to be active in local business networks.
There are lots of little things you can do to improve your quality of service. Try improving access to your premises - this is the sort of thing which will win you recommendations if only because few businesses really make the effort. Make sure that you and your staff are quick to acknowledge customers entering your premises, and to offer help to anyone looking lost or confused. Offer to pack bags for customers who have too much on their hands, and hold doors for parents struggling to manage with small children. Take the time to chat to customers whenever business is slow, and make sure you really take an interest in what they have to say, whether it's immediately relevant to your business or not.
Finally, make sure you have a swift and effective complaints handling procedure. Try to look upon complaints as an opportunity to learn, but never leave a customer dissatisfied, as bad word of mouth can be really damaging to you. Do your best to satisfy them even if you don't think they're in the right. Often an unhappy customer making a complaint can be turned into a happy one who will give you good word of mouth if they receive a sincere apology and an unexpectedly positive resolution.
Guaranteeing Good Quality
Although it can be tough for a small business bargaining with suppliers who seem to hold all the cards, it really is important to insist on good quality goods. Your success depends to a large degree on making sure your customers are always satisfied with the products they receive. Make sure your premises are always clean and that you pay careful attention to storage conditions so that nothing gets damaged or goes off. If there's a problem with an item, offer a discount, but don't be tempted to sell anything that could be rotten or dangerous, even if the customer is likely to spot the problem before using it - sometimes you'll just have to accept your losses and throw things out. In the long term, your reputation for reliability will be worth more to you anyway.
Building up a business reputation is hard work but local success is the key. Should you wish to expand later, a strong local reputation will always make it easier. With patience and dedication, you can make your small business a valuable and valued member of the community.
You might also like...