How Businesses Work Together to Identify Local Needs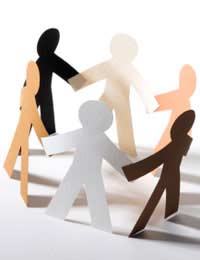 How much do you really know about your local communities? You may make an effort to take an active interest, but even with excellent communication you'll only get a limited perspective on things. This is where joining up with another business to form an enterprise partnership can come in really useful. By engaging with local people in a different way, the other business will learn different things about them. When you're working well together you can exchange information to build up a more comprehensive picture of your neighbourhood, its people and their needs.
Accessing Different Demographics
Despite their best efforts - or, sometimes, because of them - most businesses appeal to a limited customer demographic. This means that you may be slow to identify issues relevant to other groups. Perhaps you'd like to appeal to a wider range of age or lifestyle group, but you don't know how. Getting together with a business which normally serves a different demographic can help you to identify what these other communities are looking for. Bear in mind, though, that to make the most of this you should look for a partner whose business is quite different from yours - perhaps not a person you would immediately be drawn to. Because our ordinary social circles tend to consist of people who are similar to ourselves, we often fail to notice what's going on in the wider world. A good business partnership can help to overcome this.
Getting Out and About
To properly understand local communities, it's necessary to get out and about within them - but for some businesses, this is easier said than done. If your business doesn't involve much direct interaction with the public, or it keeps you fixed in one location, you may benefit from a partnership with a business such as a taxi company or a delivery company whose staff get to see more of the neighbourhood. These people are in a good position to identify problems such as dangerous roads which might make customers less likely to access your business. They can also observe the routes which local people use to move around and see if there are areas they prefer to avoid. They may be able to find out if people from your neighbourhood feel the need to travel a long way to access certain types of goods or services.
Talking Shop
Just as some types of business involve getting out and about more than others, some involve more communication than others. If you own a shop, it's relatively easy to exchange a few words here and there, but that's nothing compared to a business like a hairdresser's where customers might sit and talk for half an hour or more. Such businesses tend to hear all the local gossip, which makes it easy for them to identify local concerns and desires, but they don't necessarily have much they can do with all this information. However, when they're working well together with another business it can be enormously helpful. Of course, it's important for every business to respect customer confidences, but often it's possible to pass on concerns in an anonymised way which doesn't jeopardise this.
Working in partnership with another business gives you a second set of eyes and ears with which to discover what's going on around you. It can make it much easier to identify customer needs and to develop strategies with which to respond to them.
LOCAL BUSINESS ENTERPRISE IS FOR SALE.
This website is for sale [more info].
You might also like...