Sponsor Local Events and People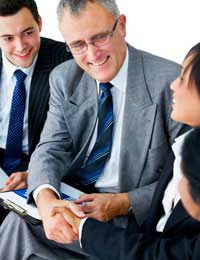 When you're aiming to raise your business profile, one great way to go about it is to become a sponsor. Sponsorship opportunities are available for all kinds of different events and causes and they can really help you to engage with your local community. Getting involved in this way is the kind of business enterprise that can provide you with big publicity at the same time as enabling you to make a meaningful contribution to society, and it's more than just giving - it's encouraging people to do things for themselves.
Event Sponsorship
Probably the easiest way to get into sponsorship is to become involved with an event. Events such as music festivals, sporting competitions and art exhibitions are always looking for sponsors. Keep an eye on the local press, community notice boards and library listings to see what's available in your area. You can also look out for smaller events which have no existing sponsorship and which you think could become big with your help.
When you become the official sponsor of an event, you can request that your business name be included in its title and that your logo be distributed on its promotional materials. You can also expect your logo to be highly visible at the event itself. This helps to get your name and logo into the press at no extra cost. It also makes sure that members of the public attending the event are aware of who you are and how you have supported something which brings them pleasure.
In choosing an event for your business enterprise to support, don't just think about what's going to get noticed. Think about how it will get noticed. Try to find an event whose image suits your business. Which qualities of your business do you want to emphasise? Do you want to be seen as highly active, as creative, as daring, or as cultured? The event you choose, and the resulting publicity, will contribute to your brand identity.
Sponsoring a Team or Club
If you want publicity over longer periods of time, you can keep getting your details into the press if you associate them with a team or club. Team sponsorship isn't guaranteed to get you noticed but it does mean that there will be plenty of material available which can be submitted in the form of press releases. If a team does badly, emotive personal stories can still make news, and although you may not wish to be associated with a losing brand in the long term, in the short term you can argue that your involvement is set to change things, encouraging people to sympathise with the underdogs.
Sponsorship of a non-competitive club may not make headlines but it doesn't involve the same risks and it can still be an effective way to raise your business profile. Try to choose a club which fits in with your customer demographic, so that word of mouth will encourage customer loyalty.
Sponsoring Individuals
The chances are that, as a schoolchild, you spent more than one afternoon pestering neighbours, relatives or family friends to fill out sponsorship forms and pledge a few pennies for each stage of whatever bold activities you were involved in. Sponsoring children like this is an option for you as a business but won't get you much publicity unless you get involved with large scale school projects. However an increasing number of adults are now getting involved in sponsored events to raise money for charity, and supporting these can be great publicity.
Charities know all about publicity - it's how they survive - so they're good at setting up headline-making events, like bungee jumping or attempts to bake the world's largest food items. If you're looking for an event like this to get involved with, all you have to do is ask. They'll tell you what's happening, when, and where, and they'll make your participation simple.
You can also consider offering sponsorship when you hear about an individual doing something extraordinary on their own initiative. In this case, the journalist who breaks the story should be able to pass on your details and offer to the person involved. This kind of activity demonstrates that you support your community and want to use what you have achieved in business to support others in making the most of their potential.
You might also like...