Persuade Local Businesses to Contribute to Your Project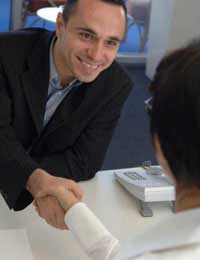 If you're running a project aimed at benefiting the local community, it can be hard to raise sufficient funds from private individuals alone, so why not ask local businesses if they can help out? By persuading an existing business enterprise to assist with your project or by building new business relationships from scratch, you can gain practical and financial support for your work as well as providing it with an extra air of authority. And when businesses are contributing, you'll find that individuals are more likely to contribute, too.
Pitching your Project
Before you start approaching local businesses, it's essential to work out how you're going to pitch your project. There are a number of things to consider here:
What makes your project distinctive?
How will your project benefit the local community?
What will participating businesses stand to gain?
How much publicity will your project attract?
Try to consider what makes a project like this attractive from a business' point of view. Participating businesses will be interested in impressing potential customers, attracting the attention of people who didn't know about them before, and improving the local area in a way that will improve their own prospects. You can also appeal to business owners as people and encourage them to feel positive about the ways in which they can make a contribution to the community. Make sure you are able to show that your project is something special - you may need to compete for their support with many other such schemes.
Once you've identified the best way to pitch your project, make up a professional quality dossier to distribute to businesses which express an interest. Remember that this document is in itself an important demonstration of your skill and commitment. If you're not strong on design skills, it's best to keep things simple. If possible, include professional photography illustrating what you plan to do and picturing some of the people involved. As a rule, people find it harder to turn down a proposition once they have identified it with a friendly face.
Approaching Businesses
Even when you have your dossier at hand, the best way to approach potential supporters in the first instance is either over the telephone or in person. Speak to your local business support centre about what you plan to do and ask them if they can supply you with a list of upcoming networking events. It's often possible to get yourself invited to these even as an ordinary member of the public, and they can give you the chance to present your dossier to business owners in person. Do your research before you go and don't target people at random - looking desperate won't help you. Calmly approach the people you think are most likely to be useful to you.
When contacting local businesses by telephone, you can spread your net a little wider. Always ask to speak to the manager. If they are unavailable but staff think they might be interested, see if you can make an appointment. If a business is vague about its interest, say that you understand they may need room to think about it and ask if you can send your dossier anyway, or call back a few days later. However it's important not to be too pushy - and not to call persistently - as you don't want to develop a bad reputation whereby local business owners warn each other about you. You won't win over everyone you speak to, but if you've got a good project and you've packaged it well, there's no reason why you shouldn't attract interest sooner or later.
Approaching an Existing Business Enterprise
Approaching an existing business enterprise with a history of supporting local community projects is much easier than targeting your project more generally, as you won't have to explain the concept of business-community partnership. However the downside of such groups being better informed is that you'll have to work harder to convince them of the importance of your particular project. This option is best suited to projects with natural high visibility, which will appeal to the newspapers and which are accompanied by a sophisticated press campaign.
However you choose to approach potential supporters, assertiveness and patience will be rewarded. Don't be shy because you're asking for help - after all, your project will have benefits for the businesses involved, too - and don't get frustrated if progress is slow. Finally, keep in mind that good business relationships you develop now will be there in the future if you have other projects to promote.
You might also like...