How to Publicise Your Community Activities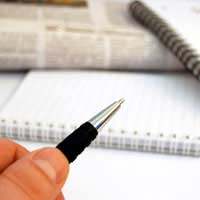 How to Publicise Your Community Activities
Whatever your reasons for working to improve your local community, you'll need people to know about it if your business is to benefit, and a successful business means, in turn, more successful business enterprise initiatives. So how should you go about attracting publicity to what you do? Should you contact local newspaper journalists or the editors of parish magazines? Should you display posters on your premises or arrange to be interviewed by your local radio station? In fact, there are lots of different things you can do - and the more, the better!
Make it Look Good
Getting publicity for your community activities is not just about doing good - it's about looking good. This doesn't means that you personally have to be glamorous, but rather that your events and activities need to be as visible and as intriguing to the eye as possible. When you invite a newspaper to cover what you're doing, make sure that you have plenty of interesting things to photograph, such as smiling children, a spectacular-looking prize or a friendly guide dog. When you send out press releases, include high quality, eye-catching images relevant to what you've achieved, such as before and after pictures of a building you've improved. Think about what appeals to the public and, thus, to the local press. Remember that most people are far more affected by what they see than by what they hear.
Let Others Help
Because they want to encourage you to contribute to community activities, some charities and government agencies will provide publicity for you when you do so. This means that simply by letting them know what you're doing you can take advantage of their trained press officers and wide-ranging media experience. They can include you in lists of helpful businesses and you may be eligible for awards. They can also provide you with banners and logos which you can put up around your premises and on your business stationary to show customers your commitment to the community.
If members of your local community are helping out on your projects, reward them in ways that will increase your business' visibility, such as by giving them t-shirts or badges whose designs include your logo. Items such as bags and umbrellas are great for visibility and can be printed with a message which promotes the community activities you're involved in.
Avoid a Backlash
The last thing you want when publicising your community activities is to be thought to be blowing your own trumpet too loudly. If people think you're only helping the community in order to help yourself, they'll become suspicious of everything you do. For this reason it's best to avoid focusing on yourself when you undertake your publicity initiatives. Instead, talk about the subject of your work in a way naturally suited to the publicity outlet you're using - for instance, you could talk to parish magazines about the fascinating history of the church whose roof you've helped to repair, or arrange to be interviewed by a gardening programme about the tree planting you've worked on. You and your business will receive invaluable publicity as a result but you won't be seen as a publicity hunter, just as someone who happens to have things of interest to talk about.
There's nothing to be shy about when it comes to generating publicity for your business involvement in the community. In fact, it's precisely this sort of thing that often makes the difference between a successful business and a failure. Let everybody know who you are and what you do, including what you've done for them. After all, it's something you're right to be proud of.
You might also like...